Local Landmarks, Gone But Not Forgotten
The landscape of a city is constantly shifting, with buildings springing up and vanishing again as the economics and community developments of the region rise and fall. The history of the landmarks and the legends develop over years and decades but can disappear overnight.
Harwood Heights and Norridge have had quite a few interesting landmarks and businesses come and go over the years. Do you remember...
Happy Day Stables
Norridge, 1952 - approximately 1976
Formerly in 2 locations - at the intersections of Montrose and Cumberland and at Lawrence and Cumberland - the stables were owned by George Jayne: brother, rival, and eventual victim of the infamous horse breeder Silas Jayne. The Happy Day Stables burned down in the late 1970s.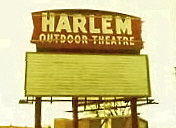 Harlem Outdoor Theater
Norridge, 1946-1976
At the intersection of Harlem and Forest Preserve, this was the second outdoor theater to open in the Chicagoland area, with room for more than 1000 cars.
Norridge, 1937-2008
A Chicagoland institution, the Maurice Lenell cookie factory was located near the intersection of Harlem and Agatite. At its peak, the "cooky" company produced 10 million cookies a day.
branch location: Norridge 1952-1976 (main location, Kiddieland: Melrose Park, 1929-2009)
A family-run amusement park for 80 years, Kiddieland had a branch location known as Kiddytown in Norridge, right next to where the Harlem-Irving Plaza stands today.






Dunning Hospital
Cook County Hospital for the Insane, south Norridge/Harwood Heights, 1854-1912
Now called the Chicago-Read Mental Health Center, the infamous mental hospital started out as an almshouse for the poor in 1854. The institution did double duty as an insane asylum, as well, starting in 1858. It was turned over to the state after a fire in 1910 destroyed several buildings.
Westlawn Cemetery
Norridge
South of Montrose, between Thatcher and Ozanam, you will find many prominent names buried. Besides local families, notable internments include: author Shel Silverstein; Abe Saperstein, founder of the Harlem Globetrotters; movie critic Gene Siskel; and Jack Ruby, murderer of Lee Harvey Oswald. The cofounder of Sears, Roebuck, and Companty, Alvah Curtis Roebuck, is also buried nearby, at the Acacia Park cemetery.
Have pictures of these places or any other memorable landmarks in the area?
We would love to see them - bring them to the Answers Desk
Originally published in the Fall 2010 Eisenhower Public Library District newsletter